>
>
>
DD DISPLAY & PrintingUnited 2019
DD DISPLAY & PrintingUnited 2019
DD DISPLAY & PrintingUnited 2019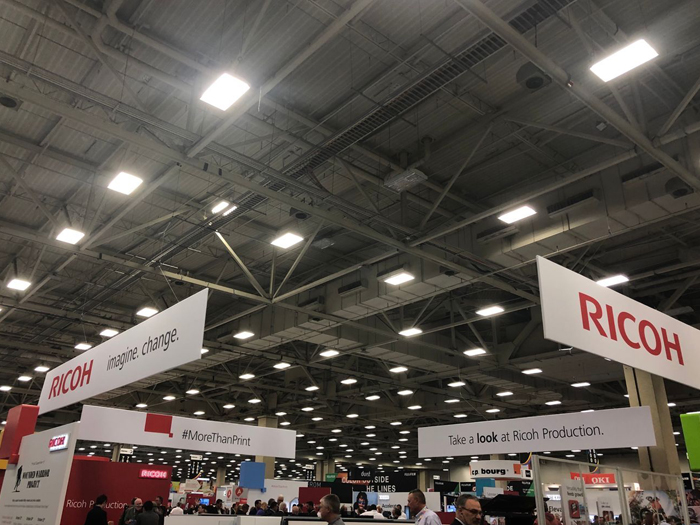 "The feedback we continuously received throughout the show, and following the event from both exhibitors and attendees, has been overwhelmingly positive and powerful," said Ford Bowers, president and CEO, SGIA. "Many commented on how revitalizing it was to see such a full, and comprehensive, event. We were most thrilled about all the buying taking place on the show floor. This is the best testament that our industry, indeed, is thriving."
Developed by the Specialty Graphic Imaging Association (SGIA) and NAPCO Media, Printing United provided all printing industry segments with a massive showcase of new equipment, software and consumables.
"The vision for Printing United has been two years in the making," said Mark J. Subers, president, Printing United. "Seeing it all come together was surreal. We worked hard to provide this industry across all segments with solutions and resources they need to make their businesses successful. For some, that means expanding their capabilities within their traditional industries; for others it's collaborating and converging with adjacent segments and markets. Either way, there was something for everyone and our passion for where this industry is headed is invigorating."
Konica Minolta/MGI USA report that they expect to exceed sales revenue goals for the show. "MGI and Konica Minolta had a truly inspirational experience at the inaugural Printing United exposition," said Jack Noonan, MGI marketing manager. "The sense of energy and optimism at the show about the future growth of our industry was astonishing. The concept of a 'big tent event' to house all segments of the marketplace proved to be a visionary concept for all participants."
Konica Minolta USA released a video, Printing United 2019 Highlights.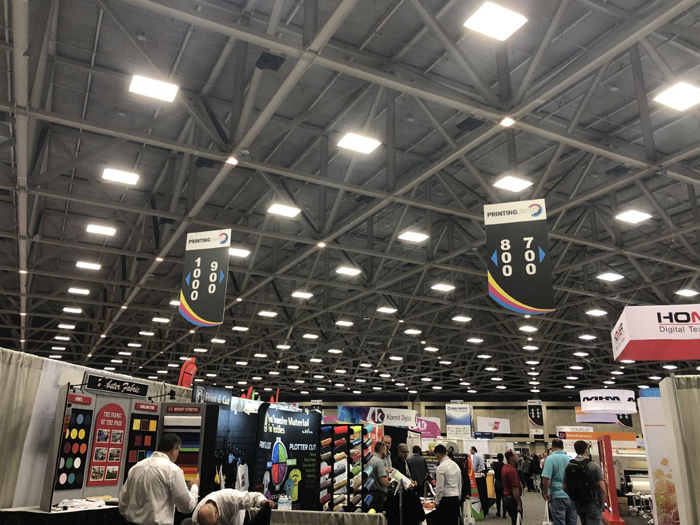 "Printing United set out to create one environment centred on the convergence of innovations in our industry," said Heather Poulin, senior director, marketing, Commercial Printing Business, Ricoh USA. "Based on the traffic we had in our booth, from commercial printers to sign shops and many in between, that goal was achieved. The interactions with customers were unstoppable and have already resulted in profits. The experiences we gave attendees, all in one booth wrapped with software and professional services, also presented them with an opportunity to share their feedback, helping us to develop the right future technologies and solutions to meet their needs and further our alliance."
Agfa also reported a successful showing. "The inaugural Printing United show was a great success for Agfa," said Deborah Hutcheson, director of marketing, Agfa. "It clearly responded to the industry's need to pull our key printing segments together into one united event."
The 4,000-square-foot Printing United Experience Zone was a highlight of the show floor. This physical structure allowed attendees to traverse through simulated home, retail, restaurant and outdoor environments; and highlighted print's presence in everyday life. Here, attendees could touch and take in the various printed applications.
Sponsored by Canon, Drytac, EFI, Fisher Textiles, FUJIFILM, Konica Minolta, Kornit Digital, OKI Data Americas, Ricoh, S-One Holdings Corporation, Stahls', Top Value Fabrics, Ultraflex and Xeikon, the Experience Zone included printed guides describing how each piece was printed and pointed attendees to the booths where they could learn more about the applications used to produce the pieces highlighted there.
"The Experience Zone provided a cool, interactive experience — I went through it multiple times," said Michael Sanders, director of printable textiles & finishing technology, Top Value Fabrics. "It was nice to see the different applications and products, especially coming from the textile and corrugated industries, which can go hand-in-hand. It was great to see how it all was put together with all of these markets and products represented in one booth, and I'm interested in seeing how the experience continues to develop over the next few years."
The Printing United educational experience kicked off before the show floor's doors officially opened, with three half-day intensives on Tuesday, October 22. The show's 100-plus educational sessions were designed so that attendees could find relevant, expert-led educational sessions at any given time. Attendees took part in comprehensive tracks for the graphics, apparel, functional/industrial, in-plant, commercial and packaging communities.
Among a comprehensive schedule of specialty presentations, the sold-out Women in Print Alliance Breakfast was "an inspirational session," say the organisers. ST Media's Adrienne Palmer interviewed teen fashion designer Ariel Swedroe, with a line-up of industry-leading women following up by sharing their own personal journeys in the print industry.
2019 Product of the Year Winners
The winning products — all produced by exhibitors and available for sale in 2019 — came from a field of more than 200 entries in 72 categories. The full list of winners is available here.
Printing United 2020
Pre-show registration for PRINTING United 2020 (October 21-23, Atlanta) has already topped 6,000 attendees. With over 1 million gross square feet in Atlanta, more than two-thirds of the 2020 show floor has been reserved.
Get the latest price? We'll respond as soon as possible(within 12 hours)